Case Studies: understanding & Strategy
Patient Insights Research: Interviews and Surveys
Project brief
Sheila Khawaja is an acromegaly patient and has worked as a patient advocate internationally since 2003. She is the current Vice-Chair of the World Alliance of Pituitary Organizations (WAPO).
Note: The case study solely focuses on the patient market research.

Situation
A company considers to develop a new treatment for Parkinson's patients suffering from "off" periods, during which they don't respond optimally to their normal medication. The new treatment has the potential to provide for simpler, faster and more tolerable rescue than current standard of care. From first discussions with physicians and payers, the company receives mixed messages regarding the medical need. First patient interactions however tell them there is a very high medical need.
The company plan s a qualitative and quantitative patients' insights research with physicians, payers and patients. With this analysis, they aim to get a clearer picture about the medical need and the different existing and potential new treatment options. The outcomes of the analyses will influence their decision to develop and invest in the new treatment, or to stay out of it.
Challenge
Gaining support of patient associations with direct qualitative and quantitative patients' insights research. Creating a mutual understanding of and respect for the different interests of a company and a patient association. Creating win-win situations.
Procedure
Approach
The company asks a patients' insights research agency to conduct qualitative interviews and an online survey among physicians, payers and Parkinson's patients in several European countries. The agency reaches out to several Parkinson's patient associations, asking for support with the identification of patients who suffer from "off" periods of Parkinson's . The company does not want their name to be disclosed, because they are concerned about uncovering their interest in the new treatment.
The agency experiences several issues:
All patient organizations insist on full transparency about the company behind the request and the purpose of the interview.
One association wants to review the association's comprehensive material about the Parkinson's patient journey, before they decide whether any further interviews and a survey can be performed.
Several patient representatives strongly recommend involvement of caretakers and Parkinson's nurses in both the interviews as well as the survey, in order to obtain a full picture of the situation.
One association wishes to review the full interview outline and survey questionnaire as a condition. After review, they propose significant changes, which the company considers irrelevant for their internal decision process.
One patient organization recommends patient representatives of their association or physicians who their members trust to perform the interviews, rather than employees of the patients' insights research agency.
Evaluation
What went well
Investigating the patient's view on medical need, and the potential patient benefit of a new treatment over existing ones is highly informative. It should be a standard for investment decisions that require such understanding. Approaching patient associations for help to identify the "right" patients is also recommended.
What can be improved?
So, why did the agency encounter so much resistance? Lack of transparency, about the company behind the agency, the purpose or the content often leads to a difficult start if it is not well explained. Preliminary research and discussions with patient organizations can demonstrate which information already exists. Patient organizations may be able to give a lot of information ahead of any interviews and surveys . Additional interviews and surveys may even become irrelevant or can be designed in a more targeted and meaningful way.
Sometimes patient organizations have different priorities and interests. Therefore, not every patient organization may be the right partner in the design and conduct of questionnaires or surveys. This should be openly discussed and respected.
Considerations and recommendations
Preparing for a collaboration
Doing some homework first should be mandatory! The case study "First Time Contact with Patients from the Industry's View" and tool "Mapping the Patient Landscape" also deal with this situation.
Transparency is something to strive for if you want to come across as a credible business partner for patient organizations. Additionally, it may be a compliance requirement, see e.g. the EFPIA Code of Practice on Relationships between the Pharmaceutical Industry and Patient Organisations, artice 5 on Transparency (p. 4). Compliance experts should be involved early to provide clarity in regard of which information can and should be made transparent - or not - to the patient organization and to the public. Where the company cannot be transparent, e.g. when a product of the company is involved, or because the survey would be biased by disclosing the company, this needs to be properly explained. However, it is recommended to where and whenever possible and reasonable, show a name and face of the company to the people before involving an agency.
Co-creation of a questionnaire or survey with patient representatives is powerful, when both parties have the same goal in mind. In addition to information provided by patient organizations and patients themselves, you can also think about involving caretakers and relatives or nurses who can provide a lot of insights and help you understand patient needs. If requested by the patients, accept a caretaker or physician of choice to join them during interviews.
After your contact, make sure to follow up with (anonymized) results. Visuals showing product profiles and differences between therapeutic options are very helpful to increase understanding, rather than lots of text. You can also give something else in return. This can be a donation, an open door event and/or a webinar that gives the patient organization valuable knowledge in exchange. It will help your company to being perceived as ethical, serious and reliable. Discuss the best way of a fair return with patient representatives prior to the start of the project. See also checklist "Feedback of a Patient Organization".
Checklist
Mapping the Patient Landscape

Following a general understanding of the patient journey and unmet needs and beforesystematically interacting with patients and KOLs in a specific therapeutic area a company should have an understanding of the stakeholder field. The checklist below can help you obtain such an understanding, by:
Interviews with known patient advocates and medical specialists about their experience, needs and expectations, available information and data, recommendations regarding other specialists and patients, etc.
Analysis of patient groups and individual patient advocates via web, social media and other sources per country on patient journeys and community communication, objectives, capabilities, structure, medical advisors and connectivity with others, etc.
Analysis of major KOLs per country on number of patients treated, national and international reputation and influence level, publications, registries, connectivity with others including healthcare institutions and patient organizations, etc.
If helpful confirmatory interviews with major identified patient advocates/representatives regarding

independence and credibility among patient and medical community and other important stakeholders
willingness and ability to collaborate with industry and
level of expertise and efficiency
Source: This checklist has been developed by admedicum® Business for Patients GmbH.
Help us improve this guide
Submit Feedback
Tool
Considerations for Implementing Expert Patient/Patient Group Input

Recommended Contributors :

Program leaders
Patient liaisons
Sponsor representatives
Clinical investigators
Research team
Trial site staff
IRB
Expert patient(s)/Patient Group representatives
Communicating with Patients throughout the Program

How does the phase of drug/biologic/device development process covered by this program impact communication with patients?
What translation and/or cultural adaptions?
Wat language will be used to communicate with and about the patients?

Are research questions and procedures culturally sensitive and appropriate?
How will patients be referred to (e.g. "subject" vs. "patient" vs. "participant")?
What is the communication plan for patients throughout the program?

Message content
Audience
Messenger
Delivery mechanisms
Timing
Feedback mechanisms
What feedback mechanisms and processes are in place for the patients to comment on sites, investigators, and the study participant experience?
What role will social media play in the communications?

How is social media defined?
What restrictions should there be, if any?
How can social media be used to advantage (e.g. for trial recruitment, to educate patients)?
What limits should be placed on use of social media, if any? Why?
How will those limits be communicated and enforced?
What methods will be used to interact with patients and other stakeholders?

Focus groups
Interviews
Surveys
Inclusion on advisory councils
Inclusion in meetings with researchers
What data/information can and will be shared with the patients and when?

Aggregate (de-identified)
Patient-specific
What are the restrictions (propieratry and regulatory) constraining the release of data?
How do we ensure that this information is shared in patient-friendly language? How will that be determined/monitored?
Additional resources
Communication Handbook for Clinical Trials.
Guidance for Biomedical HIV Prevention Trials, p 37-38: "Stakeholder education plan."
Source: DIA (2017): Considerations Guide to Implementing Patient-Centric Initiatives in Health Care Product Development.
Checklist
Preparing a collaboration

Defining the interaction
Patients, patient representatives and industry should take responsibility to ensure interactions are meaningful by clearly defined processes and actions, progressed to timelines. In addition, all participants should be prepared for the interaction.
Prior to each interaction, agree mutually on (where applicable):
The objective of project involving patients and/or areas of common interest to establish agreed structured interaction, providing all parties with necessary protection with regards to independence, privacy, confidentiality and expectations (see section 11. written agreement)
The type of input and mandate of the involved person
The tools and methods of interaction, e.g. types and frequency of meetings, ground rules, conflict resolution, evaluation
Desired patient / patient partner organisation to foster long-term working partnerships, with independence ensured (in scope)
The profile of the type of patient/s or patient representatives/s to be involved and their number
How activity outputs will be used and ownership of outputs
How and when the patient/s involved will be informed of outcomes
Contractual terms and conditions including consent and compensation (see section 11, written agreement).
Other elements according to the specific project
Source
European Patients' Academy on Therapeutic Innovation (EUPATI) (2016): Guidance for patient involvement for industry-led medicines R&D. (12/06/17)
Checklist
Preparing a collaboration

The four key principles for collaboration:
Each party should be clear about the reason for and the planned outcome of the collaboration – and the ultimate benefit for patients
Each party should act and be seen to act honestly and with integrity at all times
Each party should maintain their independence
Each party should be open and honest about the purpose of the collaboration and be able to account publicly for the associated activities and any exchanges of funding
Checklist
Patient identification/interaction

Patient identification/interaction
There are many ways to identify patients to be involved in an interaction. The main routs are through:
existing patient organisations
EUPATI or similar project
advertising opportunities for patient participation
existing relationships with healthcare providers, hospitals and researchers and other agencies
unsolicited requests previously made by interested parties
existing advisory boards / groups (e.g. EFPIA Think Tank, Patients and Consumers Working Party at the EMA)
this party agencies
Source: European Patients'Academy on Therapeutic Innovation (EUPATI) (2016): Guidance for patient involvement for industry-led medicines R&D. (12/06/17)
Tool
List of useful conferences

Important international multi-stakeholder conferences with patient advocates included
ECRD: European Conference on Rare Diseases and Orphan Products
Rare diseases conferences (focus industry) with patient advocates included
The Global Orphand Drug Conference and Expo
You may be want to attend conferences from patient groups to learn from their interactions and subjects about their needs. Many of these conferences are open for industry participants but one should keep in mind that these events are from patients for patients and industry should respect the guest status.
Example for an indication specific conference by and for patients (industry welcome)
European Rett Syndrome Congress (international)
Also many patient organizations welcome industry at their charity events as a sponsor and as participants, like at charity runs. Check out your area of engagement.
Tool
Defining role patients

Although you may not have selected the expert patients or patient groups (EP/PGs) yet, outlining their roles and responsibilities at this stage helps to define your needs. Keep in mind that EP/PG roles may vary at different of the program or may evolve in response to new requirements. Once selected, discuss the roles with your EP/PGs to clarify what they can contribute based on their unique expertise and experience and avoid misunderstandings at the outset, e.g., if they're expecting to have a partnership role but you've designed reactor role (see Types of Patient Roles chart below).

Patient Role
Examples

Engagement

Level

Partnership role

Patients provide a priori and continuous consultation on outcomes of importance, study design, etc.
Patients are paid investigators or consultants
Patients have a governance role - "a seat at the table"

High
Advisor role

Patients serve as advisory committee members or provide a priori consultation on outcomes of importance and study design, but have no leadership role or governance authority

Moderate
Reactor role

Patient input is collected distally through surveys, focus groups, or interviews, but patients are no consulted directly or a prior on such things as study design and outcomes of importance
Patients are asked to react to what has been put before them rather than being the origin of the concepts of interest

Low
Trial or study participant

Patients are recruited or enrolled as study participant, but are not asked for input, consultation or reaction

None
Source: DIA (2017): Considerations Guide to Implementing Patient-Centric Initiatives in Health Care Product
Development. (02/06/17)
Get in Touch
Contact admedicum
Checklist
Mapping the Patient Landscape

Following a general understanding of the patient journey and unmet needs and before systematically interacting with patients and KOLs in a specific therapeutic area a company should have an understanding of the stakeholder field. The checklist below can help you obtain such an understanding, by: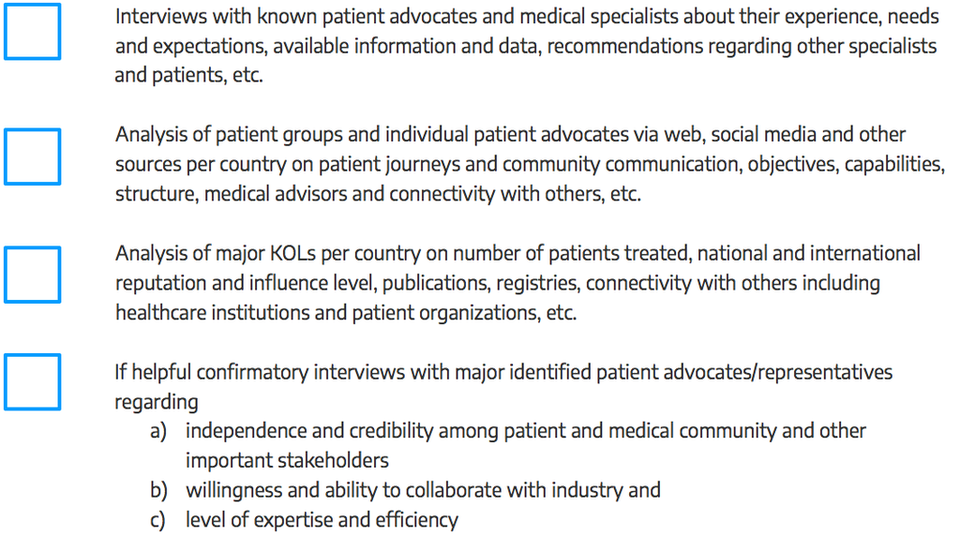 TOOL
Feedback of a Patient Organization
"What is most important to you when working with the industry?"
Relationships are built on trust. A "warm" (personal, trustworthy, sustainable) relationship is the best way forward, especially in long-lasting collaborations.

Work with us. Patient experts are patients themselves, so we have different needs and priorities than healthy individuals. For example: we aren't deadline junkies. Give us at least 3 weeks to get back with an answer.

Be clear on what the (mutual) expectations are.

Do not only talk to us, but above all listen to us. Amazing things can happen…

Please don't ask us to translate: we are not a translation agency, we are a patient organization!
"What does the industry need to consider when collaborating with patients / patient organizations?"
Create lay versions of every paper/document you publish or use, including Travel Policies, Informed Consent and Data Privacy documents.

Work with the patient organizations on those lay versions. With all due respect, as researcher it might be a bit of a challenge to figure out if a text is well-understood or not. This is your ultimate opportunity to give back to the community!

Train your researchers, event managers, legal counsels etc. on patient-related matters, including how to embed the patient's voice in your research. Make sure they see the benefits of patient involvement, instead of it being an obligation. Learn them to talk with patients as an equal partner. Above all, learn clinicians & researchers to listen to the patients.

Don't expect the patient (or patient organization) to do all kind of things free of charge. You don't do that either, do you? A fee is great. However, some patient experts cannot accept a fee, as that will have a huge (negative) influence on their finances (e.g. on welfare or on disability leave) . You can offer to donate to a charity of their choice. Solved!

Accommodate patients needs: if there is a visit, make sure there is wheelchair access, a meal matching our dietary needs. If we need to come a day earlier because we are tired, so be it. Don't discuss, just do it and make it happen.

Expect patients to need more extended deadlines. Being ill is a fulltime job already.
Source: This tool has been developed by admedicum® Business for Patients GmbH.